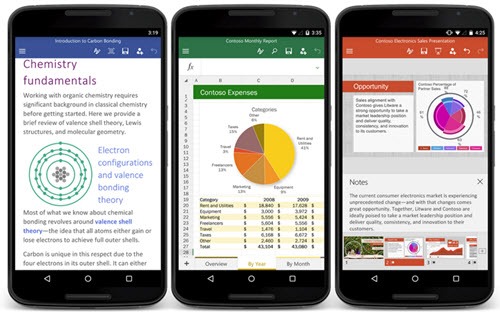 Word, Excel and Powerpoint apps are now available for Android phones, joining OneNote and Outlook. The Office programs are already available on iPhones, iPads and Android tablets. The first phase of Microsoft's Office Everywhere strategy is now complete; the Office programs are now available on every platform, large and small.
The Android phone apps are free for lightweight file viewing and editing after you sign into your Microsoft account. You'll get full functionality if you have an Office 365 license for the Office programs.
Look them up in the Play Store by searching for "Microsoft Word," "Microsoft Excel," and "Microsoft Powerpoint." They replace Office Mobile, which was a bundle of more limited versions of the three programs. The new apps require Android 4.4 or higher, so you may not be able to find them with older Android phones. They will begin to appear pre-loaded on new phones before long, thanks to deals Microsoft has struck with many of the manufacturers.
You can open files stored in OneDrive, Dropbox, Box, and Google Drive from the apps. (Also OneDrive for Business and Sharepoint, but you have to be fairly masochistic to be using either of those now.) Conversely, you can use the Android apps for the cloud services and open files directly into the Office apps. Edited files are saved back seamlessly to where they started.
The apps are designed to present files accurately with formatting and content in the right place. A mobile-sized set of options are presented in a ribbon at the bottom of the screen (to put the controls within reach of your thumbs).
When you finish installing these apps, make sure you don't overlook OneNote for your Android phone, and especially the amazing Office Lens app.