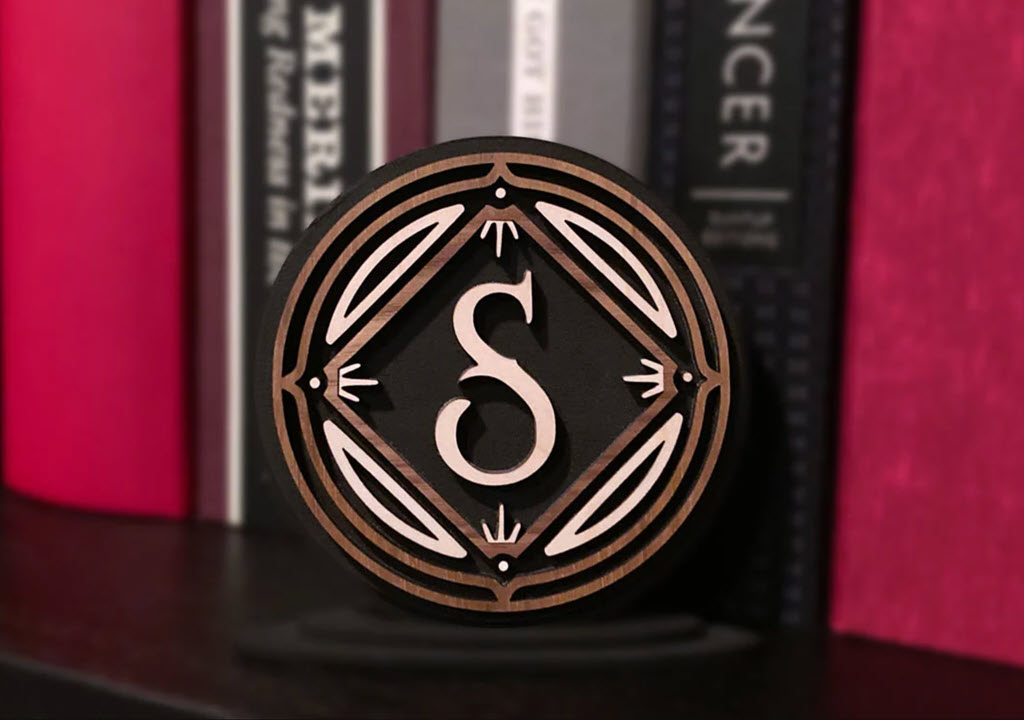 Every month I buy a piece of fine art. I order a book from Suntup Editions.
Paul Suntup has been publishing beautifully crafted books since 2018 – "editions that are crafted by book artisans such as letterpress printers, hand bookbinders, paper makers and typographers, using some of the finest bookmaking materials," as he says on the Suntup website.
The fine press movement dates back to the late 19th century, when Englishman William Morris led a renaissance of small presses focused on books of exceptional intrinsic quality and artistry.
Today the private press movement is thriving, producing beautiful books that combine new technology with old printing machines, letterpress printing, wood-engraving, specially made paper, artist-quality bookbinding, and fine crafts.
Suntup Editions has earned a reputation for producing some of the most interesting books in the world. Each one is unique and features artistic choices suited to the title, from the design and materials used in the slipcase to the choice of illustrator.
There are usually three different versions of each new Suntup title.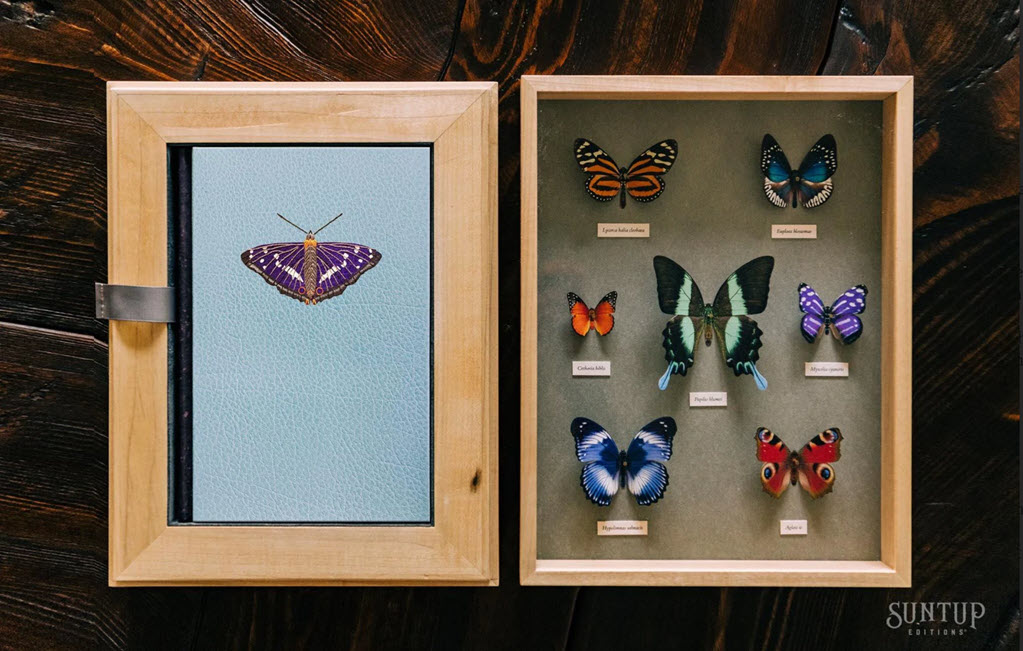 Lettered editions  Only 26 copies of the lettered editions are ever produced. They have extraordinary production values and frequently an over-the-top artistic concept. For example, the lettered edition of John Fowles' novel The Collector is housed in a wooden box that appears to be a butterfly collection, with handmade embroidered butterflies mounted in a tulipwood enclosure above a tray that holds the book.
Lettered Suntup books cost thousands of dollars and are usually all purchased by previous owners, who have early rights to each new title.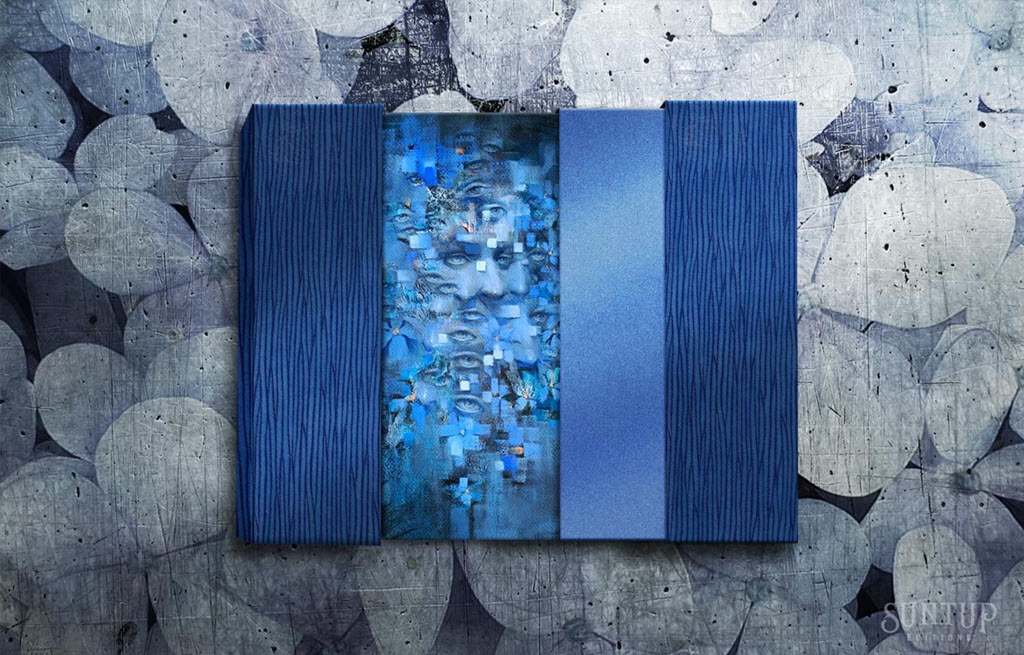 Numbered editions  350 numbered copies are produced for each title, with a completely different design than the lettered edition. (For the first few years there were only 250 numbered copies.) Each has different features. Some are printed letterpress. Some have interesting designs for the slipcase, like the anthology Bibliomysteries which was stored in a hidden compartment befitting its mystery theme. A horror novel, The Butcher Boy by Patrick McCabe, is bound in pig suede with a slipcase covered with butcher paper.
The numbered edition of Philip K. Dick's classic A Scanner Darkly, shown above, is bound in quarter goatskin binding with a cover illustration that evokes the book's scramble suits. The capped slipcase is covered in the most luxurious-feeling suede that you can imagine. (My wife felt it and her eyes went wide and she said, Oh my . . .)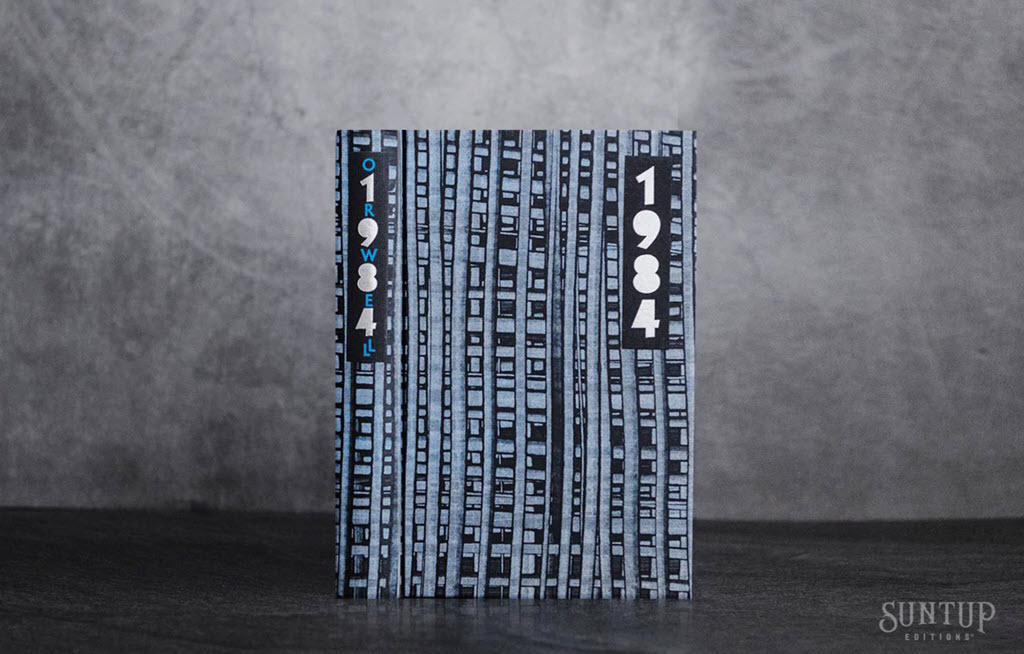 George Orwell's 1984 is bound in paste paper that was hand painted one at a time – each copy is unique. Marie Kelzer is world renowned for her paste papers, which are housed at the Metropolitan Museum of Art in New York. You can see how each one was created in this video.
Prices from Suntup for numbered editions are typically $400-$600, occasionally more for particularly high quality presentations. Popular titles are sold out instantly, mostly to previous buyers.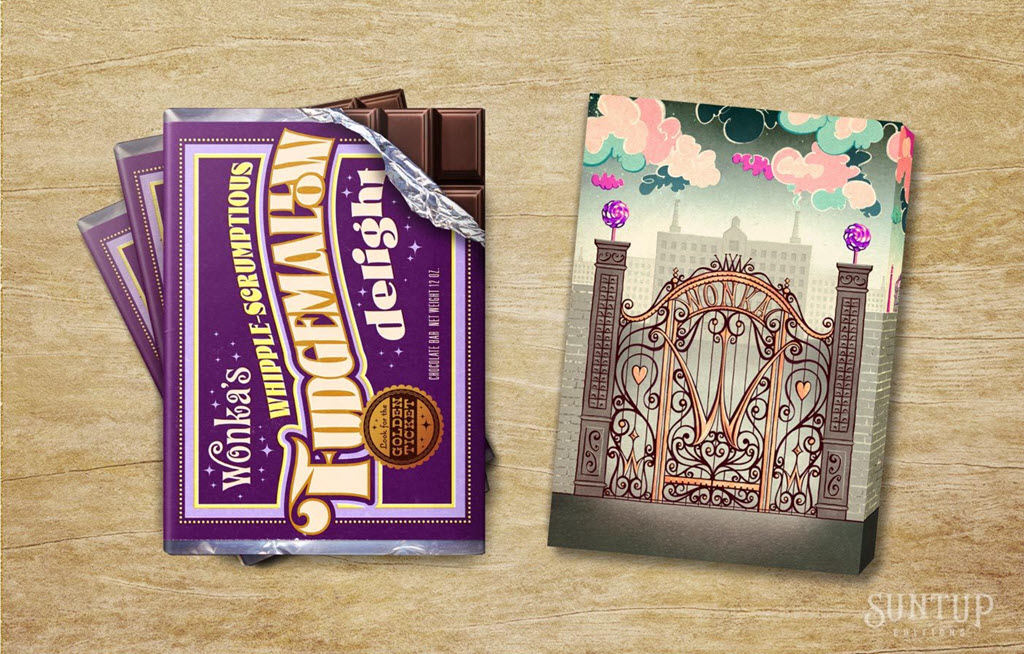 Artist editions  The artist editions of Suntup books are produced in higher quantities, 750-1000 copies signed only by the artist (not the author), with slightly less high quality paper and bindings. That's a little misleading; the quality throughout is worlds above any other book you've owned. The artist editions are the only Suntup books with dustjackets in addition to the slipcase, and have a different design aesthetic than the numbered or lettered books.
The above picture shows the artist edition of Roald Dahl's Charlie And The Chocolate Factory. That's a stack of books on the left. You're seeing a dustjacket. It's just a picture. The jacket isn't actually crinkled, the binding isn't made of chocolate. But it is simply irresistible! What a wonderful concept.
Charlie And The Chocolate Factory is also a good example of the creativity that makes the Suntup community so loyal. Orders are in for the books (they sold out in seconds) but they have not been shipped.
What would you want to find in the box when it arrives?
A Golden Ticket, of course.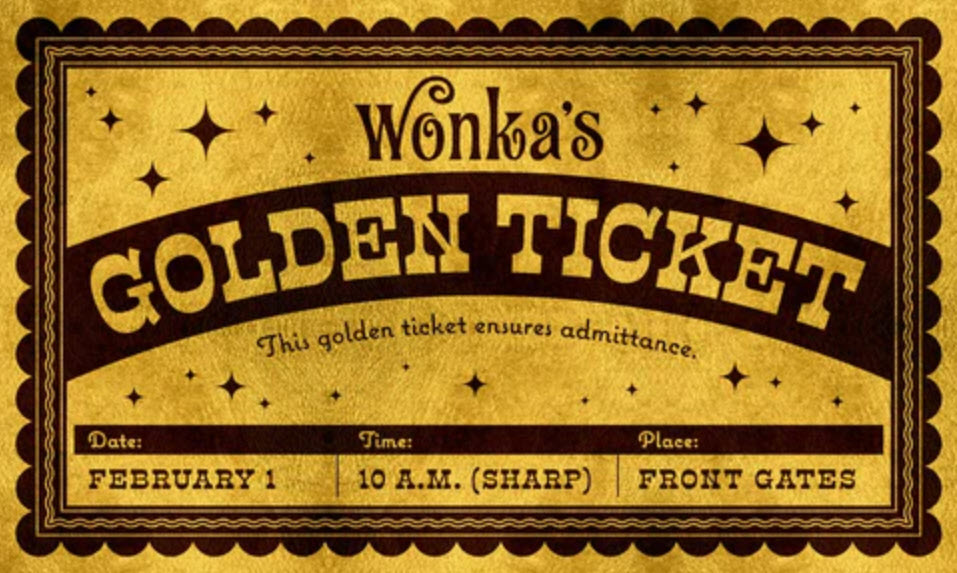 Sure enough, 25 Golden Tickets will be randomly distributed in the Charlie books. Twenty-six lettered books, 350 numbered books, 1250 artist editions, and any one of them could have a Golden Ticket. Maybe mine! I will be opening my box with the same excitement that Charlie felt when he opened his Wonka Bar. Prizes range from a grand prize of a Roman Numeral edition (two even higher end copies with an original sale price of $14,500 each) to books and gift cards.
Paul Suntup is also generous. Regular customers received an advance reading copy of the Suntup edition of The Silence Of The Lambs a couple of years ago, with a thank you note printed at the end listing everyone's name who had regularly ordered Suntup books. Receiving a Suntup book with my name in it was a wonderful Xmas present. Last year we got an art portfolio with high quality reproductions of art from Suntup books.
Paul Suntup hosts monthly live chats to show off work in progress, hint at forthcoming titles (which are kept secret until each month's announcement), and chat with fans.
There is an active Suntup Facebook group filled with very nice people.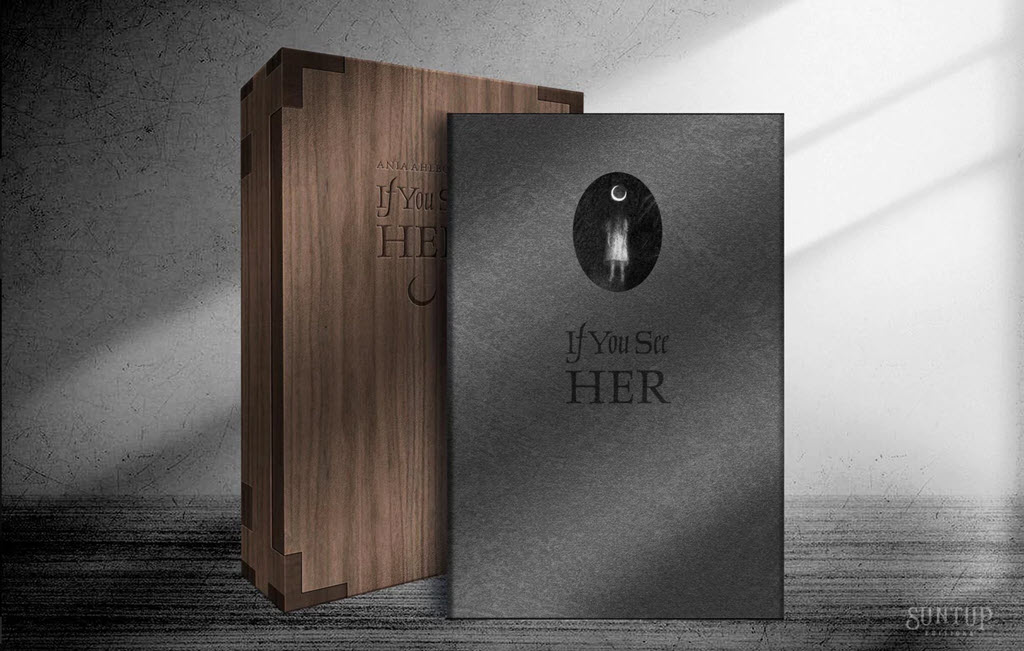 Tonight there are 28 copies available of the numbered edition of the most recently announced Suntup book, If You See Her by Ania Ahlborn, a highly regarded bestselling horror/thriller author. When it ships in six months or a year, I expect people who don't get one to be jealous, because it is relatively cheap for a Suntup book – $395 – and the presentation looks amazing. The book will be housed in a custom engraved walnut and maple box, with an additional wraparound dust jacket.
And if you buy the Ahlborn book before September 15, you will get an invitation to buy the next Suntup numbered release during a pre-order period after its announcement – no lines, no fear of missing out. As long as you buy each month's book, you will get an offer to pre-order the next one. You won't know what the next one will be! There are rumors and guesses swirling but each month you have to decide if you want to stay on the train.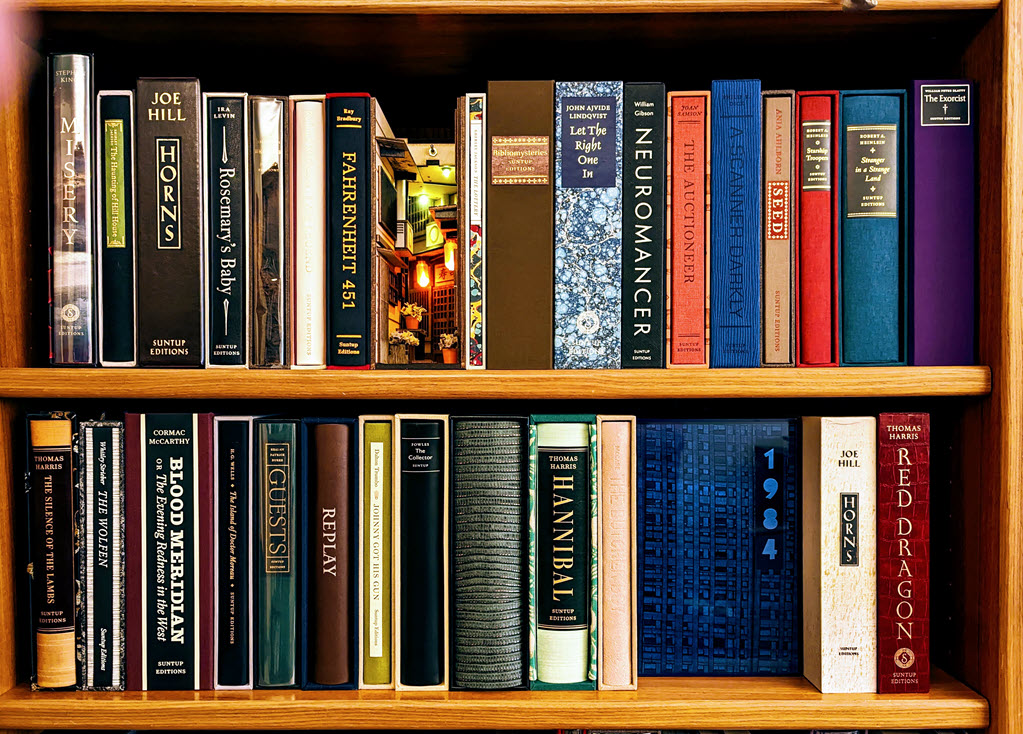 That's my collection in the picture, almost every book shipped by Suntup in the last four years. Each one is a marvel.
I wouldn't get off the Suntup train for the world. Come on board!