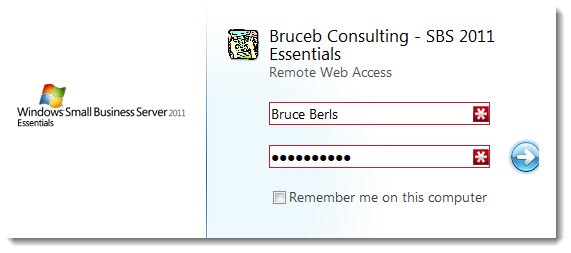 Previously:
Small Business Server 2011 Essentials, Part 1: Overview
Microsoft has done more than anyone else to promote remote access to small business networks. Almost ten years ago, Small Business Server 2003 opened up Outlook Web Access and safe remote desktop access to small businesses for the first time. SBS 2008 and the various iterations of Windows Home Server refined that first portal to make it easier and cleaner and more likely to work properly.
SBS 2011 Essentials brings something new to the table: remote access to files. Hold that thought and let's look at some of the other features first.
The login screen above is simple and elegant, as is the portal that you see when you log in.
---
COMPUTERS
The portal displays the office workstations that a user is authorized to connect with remotely, if any, based on a setting in the server dashboard.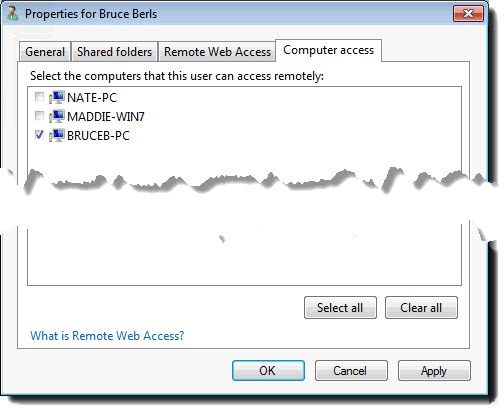 Microsoft's Remote Desktop Protocol has improved dramatically, particularly if the onsite computer is running Vista or Windows 7. The remote desktop software automatically connects the printers at your remote location so you can print to them from your office computer.
---
MAIL & SHAREPOINT
It will be common for offices to set up SBS 2011 Essentials as a companion to Office 365 for hosted Exchange mailboxes. Later this year an add-on will be released that ties them together so that users have a single sign-on and password that works everywhere. (I'm setting clients up like that manually for now.)
When that's finished, the remote access portal will have built-in links to Outlook Web Access and Sharepoint sites along the top. Users will only have to remember one link for all purposes, remote.companyname.com.
---
FILES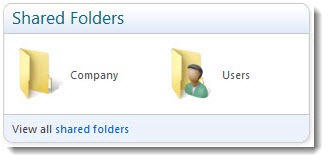 Take a look at that link to Shared Folders! It looks modest and unassuming but it represents something truly important for small businesses. It is an elegant answer to one of the questions I'm asked most frequently: how can I access files on the server from home or on the road?
Here's the view when you click on the Company icon.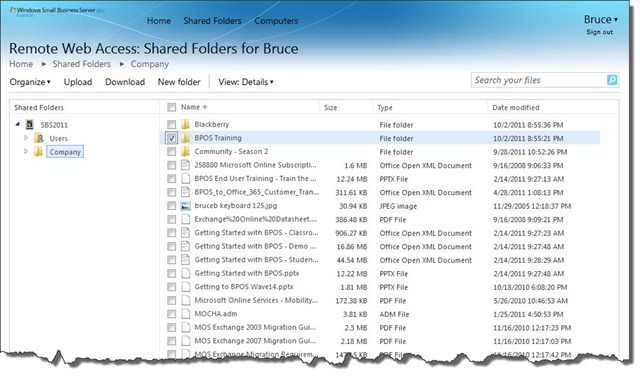 That's a list of all the shared files and folders on the server. It can be customized from the server dashboard but in general it will display all shared files on the server accessible by the logged-in user. The files on the server are indexed and searchable from the web portal.
The checkboxes! I love the checkboxes. You can select an entire folder with a single click, or you can check a dozen or more files, then do operations on all of them at once.
And the most exciting part – the Upload and Download buttons! (Forgive me. I get excited easily.)
Before this it's been virtually impossible for users to download files from a company server onto a home computer or laptop. SBS 2008 had a funky interface in Outlook Web Access for downloading files after a confusing setup; it was rarely used and in any case had no built-in function for uploading files back to the server later. Most people just emailed files back and forth.
SBS 2011 Essentials has this elegant browser-based interface which takes files both directions with style. It's easy to use and works like a charm. Business owners and lawyers will use this extensively.
Are you convinced yet to replace that old SBS 2003 server? Hang tight – tomorrow I'll tell you about how SBS 2011 Essentials handles backups, which should seal the deal.