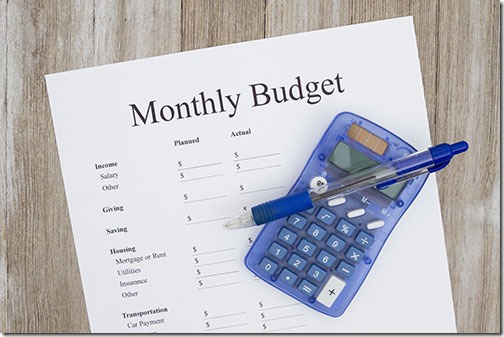 Quicken 2018 is now available for Windows and Mac computers. The most notable new feature is the price: Quicken has become a subscription product with an annual fee. You might want to buy it but you should know what you're getting into (and you should wait a few months while Quicken works out the typical new-version bugs).
Two years ago Intuit, the long-time owner of Quicken, took a look at the collapse of desktop software and decided to dump Quicken in a fire sale. In March 2016, an investment capital firm bought Quicken, installed one of Quicken's longtime employees at the head of the new company, and announced that Quicken's future had never been brighter. Here we are 18 months later and it's easy to see how important Quicken is to H.I.G. Capital when you look at the list of technology and IT companies it has invested in, shown below. (That's actually not the only list – there are 15 other sectors that H.I.G. Capital has invested in besides technology and IT companies.) To the untrained eye it might appear that Quicken is just one of hundreds of companies in the H.I.G. portfolio but obviously Quicken is special. Because. Because. Umm. Because it's the only company in this sector whose name starts with "Q"! Yeah, that's it! I'm sure Quicken is very important to them.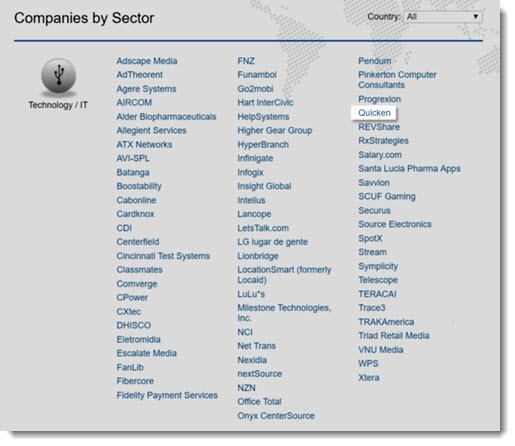 Quicken generated under $100 million in revenue (not profits) in 2015. H.I.G. Capital manages equity capital of $24 billion. Quicken was an insignificant acquisition of an unimportant product. But good-hearted people have been working hard on it, and after a maintenance release last year, the 2018 version is the version that clearly shows the future of the product. How bright is the future?
Put aside any fear that Quicken has undergone radical changes. The good news is that Quicken Premier 2018 installed easily, removed the previous version of Quicken on my office computer, and imported my data file without any difficulty. I thought Quicken 2018 might take a dramatically new approach, perhaps becoming a cloud-hosted online service like Quickbooks Online. Nope! Quicken 2018 is exactly the same desktop program that it has been for more than 30 years. It has been given a facelift with new fonts and new colors in reports and charts. There are a few nods to the modern world – for example, the option to sync your data file online so you can access financial reports from your phone. On the whole, though, Quicken 2018 is the same program that you've loved or ignored for decades.
There are superficial changes. Recently Quicken finally stopped relying on Intuit to authenticate sign-ons for online services, so now I have a separate Quicken ID and password to remember. Mac users can choose from the same range of Quicken versions that has long been available for PC users – Quicken Starter, Quicken Deluxe, and Quicken Premier. There are new features for online bill payments, including automatic downloads of PDF copies of bills from more than 11,000 companies. Quicken Bill Pay is free with Quicken Premier 2018, potentially saving me almost $200/year compared to the fee charged by Wells Fargo for bill payments from my business account.
Those are the promises, anyway. Quicken 2018 seems to be in the same unsteady state that we've seen in each new version for the first few months after release.
•  There's a delay of 30-60 seconds before Quicken finishes starting up on my fast office desktop computer (a portion of the main window appears, then hangs for a full minute before the rest of the window fills in).
•  I started the signup for Quicken Bill Pay (which seems to have yet another separate set of credentials to remember) but it has stalled at the point where it connects to my bank accounts. Starting Quicken Bill Pay in the Quicken program throws up an unhelpful error message, and the accounts have been "pending" in the online portal for the last week. I suppose I could call for support but the thought makes me tired and irritable.
•  The press release for Quicken 2018 touts a partnership with Dropbox "for backup and retrieval of your Quicken data through our exclusive partnership with the leading cloud storage provider." It's not clear what that means. There's nothing new in the Quicken backup options to give that any context.
These aren't showstopper problems. Quicken 2018 looks a lot like a light rewrite of last year's program that needs a few months to mature, exactly like every new version of Quicken for decades.
There is, however, one difference: unlike previous versions of Quicken, Quicken 2018 will stop downloading transactions from my bank in a year if I don't renew my Quicken subscription. And that brings us to the big change in Quicken.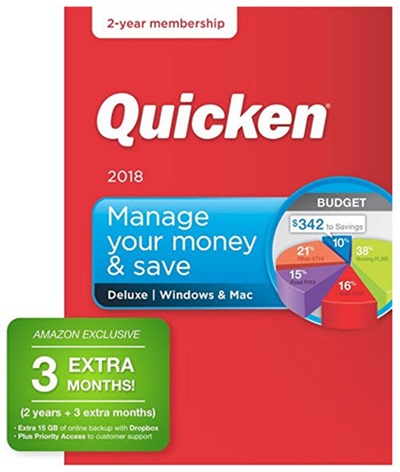 The critical difference in Quicken 2018 is that you are buying a one-year "membership," not a software program that you can use freely forever. From the press release: "Rather than purchase upgrades every year, customers automatically continue to receive the latest version of Quicken as long as they maintain their membership." The program won't stop working after a year but all online services will stop working, including downloads of new transactions from your bank.
Prices for the various versions of Quicken 2018 appear to be similar to previous years – $49.99 for Quicken Deluxe, $74.99 for Quicken Premier, for example. There's a discount if you buy a two-year "membership," and retailers may have special deals. Amazon, for example, adds three months to the membership term for the same price.
If you're like most people, you've been upgrading Quicken every three years. That gives the program enough time to develop some interesting new features and avoids problems with importing data into a newer version. This new annual membership means a much bigger investment is required to keep using Quicken in the future.
The advantages to you of this new business model for Quicken are:
1)
Actually, I'm a little hard-pressed to think of anything. This is a hefty price increase that addresses the business needs of the Quicken company, not your needs – except that the company might fail if it doesn't get a more solid stream of recurring revenue, and then you might wish you had been more generous.
Quicken is privately held and we have no direct information about the company finances. The overall trends are clear, though. The market for traditional desktop software has almost completely collapsed. Microsoft and Adobe, two of the most important players in the shrinking world of desktop software, have converted to annual subscriptions as a way to get a regular stream of revenue from computer users. Line of business programs run from onsite company servers are falling behind as new cloud-based alternatives take their business.
If Quicken had not changed its business plan, it would not have survived as a viable company. I can't imagine that this new "membership" scheme will do anything except chase more users away, so unfortunately, Quicken may not survive for more than a few more years anyway.
There are no great alternatives to Quicken. I just bought my one-year membership. If you're a Quicken user, you may want to suck it up and buy Quicken 2018, but wait a few months for some patches and updates.