Windows Search has a problem with my OneDrive files.
It can't find them.
It's supposed to be able to find them. There's a tempting new option in Windows Settings / Search that gives the impression that I'll be able to search my OneDrive files just like I search files on my local hard drive. It appears to be a lie.
I'm genuinely puzzled about this one. I don't have any answers. Maybe other people are having different experiences. Maybe there's a difference between OneDrive and OneDrive for Business. Maybe I'm cursed and this works for everyone else.
I'll tell you my story; it will help you understand why I've gone back to using X1 Search, which indexes and searches everything, including OneDrive files, with grace and dignity.
A brief history of Windows Search
Microsoft introduced Windows Search in the early 2000s and has steadily improved it and built it deeper into Windows ever since. Windows Search creates a full-text index of your files and until recently it would display search results instantly, literally while you were typing in the search box, letter by letter. Today you can begin a search from the upper right corner of File Explorer, as well as in the Open/Save boxes of many programs and from the search box in the taskbar.
Here's a trick you don't know: click the Start button, then start typing. Windows will immediately open the search window to search for whatever you're typing. Try it!
In 2019, Microsoft began working on . . . hang on.
No, seriously, I mean it, try it. I'll wait. Click the Start button or hit the Windows key in the lower left of your keyboard, the one you never notice in between Ctrl and Alt, then start typing. No need to put the cursor anywhere special. You can search for programs, settings, and files.

When you click Start and start typing, the search box shows results from a mish-mash of different sources. Click the tab that says "Documents" to narrow the search to your Office files and PDFs. The search results still won't be accurate, but it will help.
Something bad happened to Windows Search in 2020
Microsoft doesn't think it's enough to just search your files. Microsoft has a vision of grand unified searches that return results from your own files and email, plus results from a wide variety of other places – the web, company documents, other people's calendars, the contents of books you intend to read but haven't gotten to yet, your senior thesis, decoded World War II messages, maybe more. Basically when you do a search, Microsoft will check the entire output of Western civilization and use smart AI to show you search results that are exactly what you want, whether you want them or not.
Microsoft has never acknowledged it – which is strange – but it appears that Microsoft's quest for bigger and better searches caused it to completely rewrite Windows Search for Windows 10 version 1909, released in November 2019.
It's not going well.
The problems became obvious in February, when a configuration mistake by Microsoft caused everyone's searches to go completely dead for anywhere from several hours to a day. The confusing part of that episode was that it completely defied everyone's understanding of how Windows Search works. There is simply no way Microsoft could kill Windows Search that way unless it had morphed into something new and mysterious.
Windows Search still superficially resembles its prior incarnation, but there is some speculation that Microsoft is trying to turn Windows Search under the hood into a kind of web application, full of badly written Javascript that uses too much memory and, oh, by the way, doesn't work very well.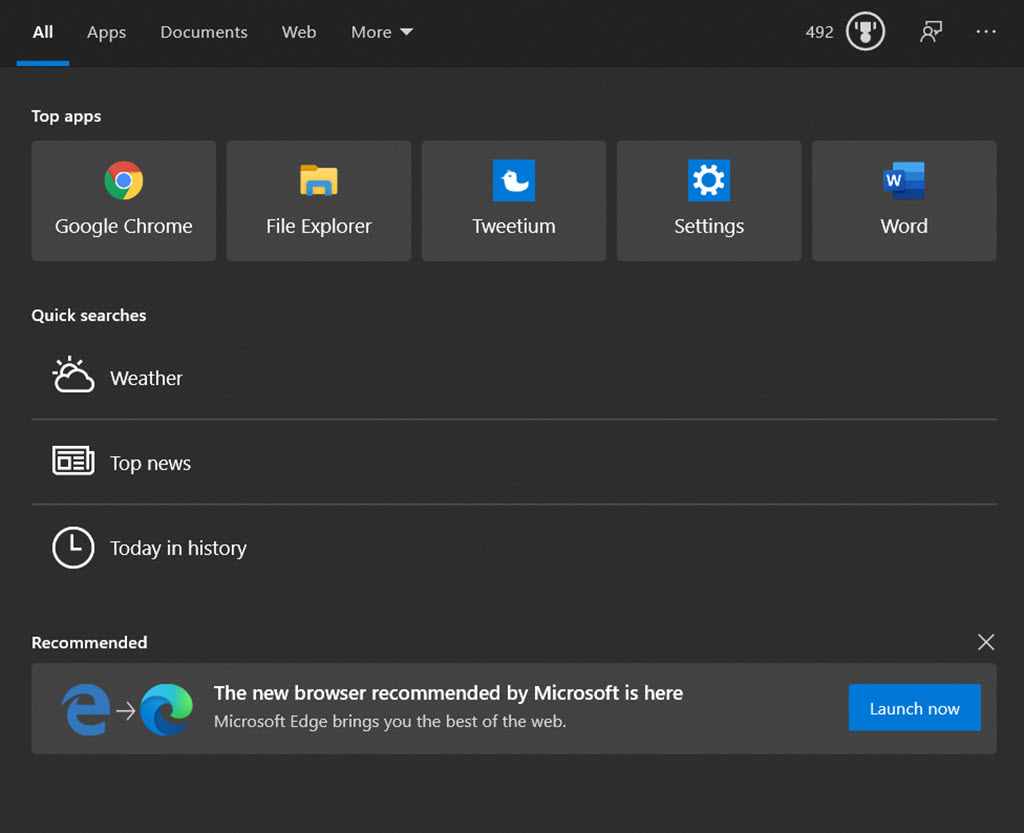 There have been lots of steps backwards in 2020. The search window that comes up from the taskbar (shown above) is cluttered and hard to use. The search bar in Outlook has been moved to a less convenient place and produces a freakishly huge box with too many options. Searches are no longer done as you type. There are bugs a-plenty.
The promise of OneDrive searches
One of the most significant changes in modern computing is well under way: we are storing files online with OneDrive, Dropbox, and Box, rather than storing them on our local hard drive. The files can be browsed in File Explorer, so you don't have to learn anything new, but your files are safe if your computer dies, and you can get to them from other devices.
Microsoft is pushing hard for OneDrive. Your OneDrive storage space can be linked either to a personal or business Microsoft account, and the Microsoft subscriptions for the Office programs include 1Tb of OneDrive space. It only takes a few checkmarks to redirect your Desktop, Documents, and Pictures folders to OneDrive, giving you a backup and extra flexibility in an invisible, seamless way.
It's all upside, except for search.
Until this year, Windows Search could only search files on the hard drive. If you had files stored online that are not synced to the hard drive (which is now the OneDrive default), then you could do a search for a file by name in File Explorer, but you could not do a full text search – a search for words contained in the file.
If you go to the OneDrive.com website, you can do full-text searches and see thumbnails and previews. It's not a bad experience but it's not what you're used to.
That's why it was exciting for search junkies when Microsoft announced that Windows Search would integrate search results from OneDrive right in File Explorer. The official description of Windows 10 version 1909 (November 2019) says:
"We're updating the search box in File Explorer to now be powered by Windows Search. This change will help integrate your OneDrive content online with the traditional indexed results."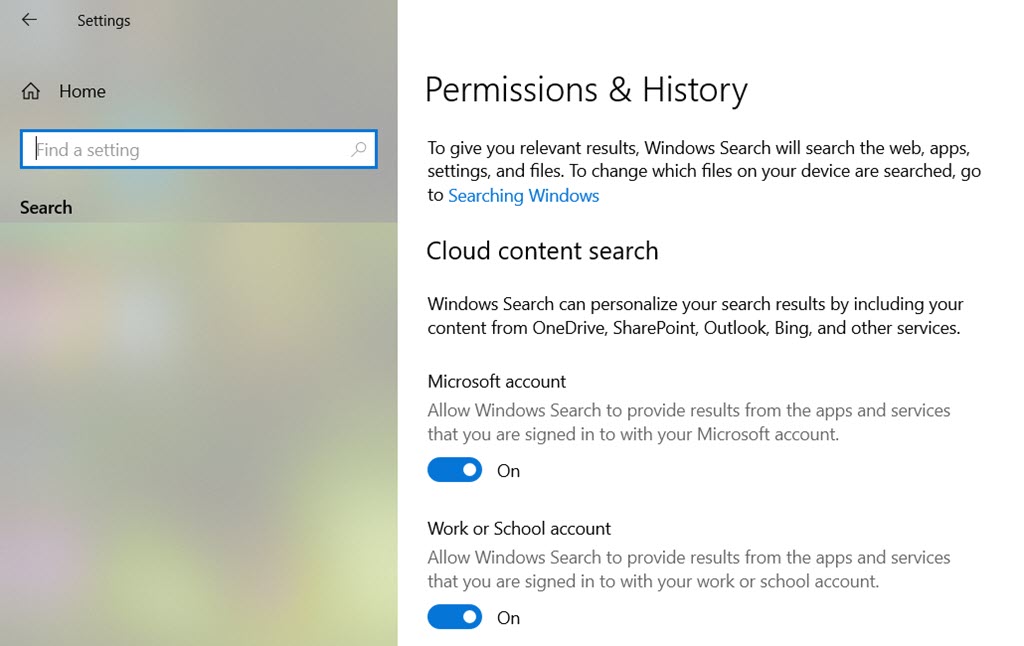 Sure enough, Windows 10 has a new setting for Cloud content search (Settings / Search).
"Windows Search can personalize your search results by including your content from OneDrive, SharePoint, Outlook, Bing, and other services."
There are On/Off buttons, turned on by default – "Allow Windows Search to provide results from the apps and services that you are signed in to with your Microsoft (or) work or school account."
Great news! This will make Windows work the way you expect without any need to learn something new!
Failure and frustration: the reality of searching OneDrive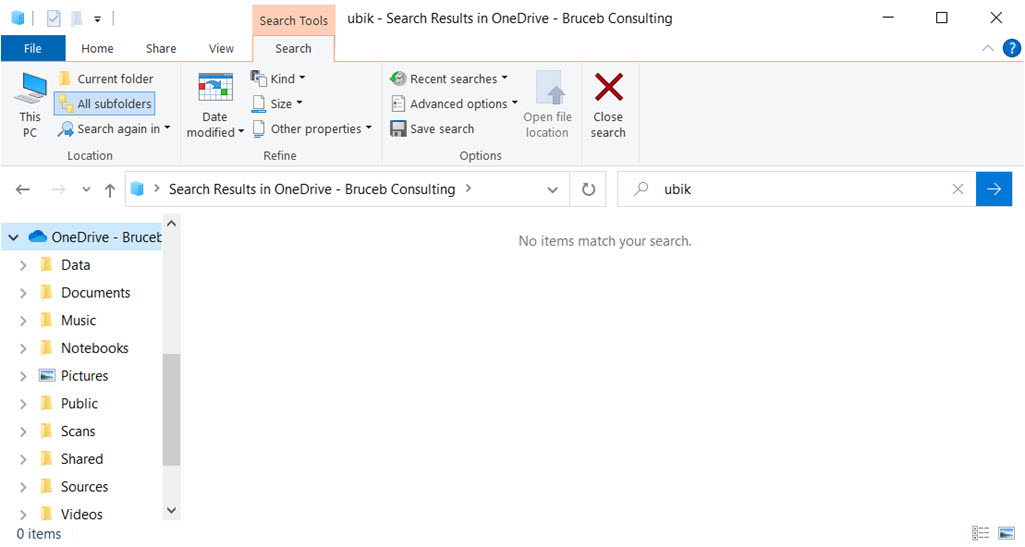 It doesn't work. Searches on my computer don't bring up anything helpful from OneDrive.
A few weeks ago I moved all my files into OneDrive for Business. I've been experimenting with three different computers, each one with a different setup, just in case: one set up with only a local account; one connected to a personal Microsoft account; and one joined to an Azure AD domain.
I can't find any OneDrive files when I do a search in Windows.
I've done searches from the taskbar and in File Explorer.
I've done searches starting in different places in File Explorer – starting in Quick Access, starting in the root OneDrive for Business folder, starting in OneDrive subfolders.
I've done searches for file names and for words known to be in the text of Office documents.
The search results are wildly inconsistent.
Most of the time I don't get all the files that have the search word in the file name.
And I have never gotten a search result that appeared to come from OneDrive online. I flipped the switch in Settings off and restarted and flipped the switch on and restarted.
Nothing. Zero. Nada.
There appears to be no way to get a full text result. The OneDrive app in the lower right corner does not have a search bar, so the only way to do a full text search is at the OneDrive website.
The picture up above shows a search in File Explorer for "Ubik" – "No items match your search."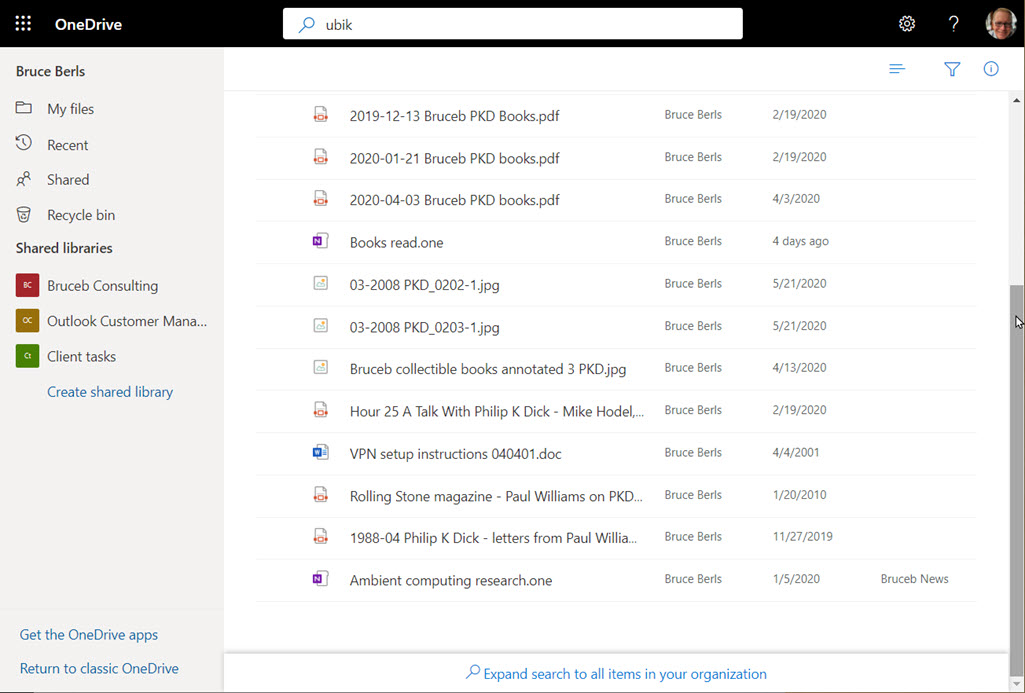 This picture shows some of the files turned up in the same search at the OneDrive website. There are PDFs, JPGs, DOCX files.
It's almost a year since this feature was promised. There has been another major release of Windows since then, version 2004 (which is installed on my computers, by the way).
If I'm missing something, I'd really like to find out what it is.
But if this is just broken, It's inexcusable. Businesses large and small should be howling for this. Have we become so used to Windows failures that everyone just shrugs and accepts them?
If you're serious about search, look at X1 Search
X1 Search indexes files on your computer, files on the network, and everything in Outlook, and does lightning-fast searches for words in them.
Two years ago I wrote an article explaining why you might want to spend $96.00 on X1 Search because of its many advantages over Windows Search – lightning-fast searches, unified search across all sources, easy ways to filter search results, file viewers to preview search results, flexible ways to work with items once they're found, and more.
Today there's another reason, and it's the best one yet. X1 Search connects to OneDrive and does the same instantaneous full-text searches on files stored online.
As near as I can tell, X1 Search obtains a full-text index from OneDrive when it's first connected and stores it locally on your hard drive. I can use X1 Search to locate files when I'm offline. When you're online, X1 Search gets file previews on the fly when you highlight a search result.
That's exactly what Microsoft promised but failed to deliver in Windows Search.
Worth noting: X1 Search does its magic trick with OneDrive and Box but NOT Dropbox. Apparently the trick requires some technical wizardry that isn't available from Dropbox. Too bad.
There are other search programs, free and paid. If you have a favorite, use it with my blessings. Leave a comment mentioning the one you like. X1 Search happens to be the one I'm familiar with.
Happy searching! I hope you find what you're looking for.