Amazon is quietly doing its own research into augmented reality glasses and apps. Evidence has been uncovered that Amazon is assembling a sizable team to work on some kind of AR/VR device. And in some sense Amazon is ahead of the others, because it has already released kind-of-smart glasses with some Alexa integration. In their current form the Amazon glasses are pointless but they are a first step down the long AR road.
All of the giant tech companies believe augmented reality stands a good chance of being the future of computing. We've talked about Facebook, which pivoted its entire company toward a bright beautiful  AR/VR future; Apple, whose efforts to develop AR/VR glasses are well-known, if not yet announced; Microsoft and Magic Leap, developing AR glasses for businesses, factories, and healthcare; Google, which has already released apps with AR features; and smaller companies like Niantic and Snap.
Amazon won't be left out. Protocol reported last week that Amazon is looking to fill "a wide variety of senior positions for computer vision scientists, designers, program managers, product managers, researchers and technologists." The details in the job listings suggest that Amazon seeks to develop a "magical and useful, new-to-world XR consumer product." XR is jargon that means "extended reality," roughly translated as "augmented reality if we can manage it, but maybe virtual reality because AR is really hard."
Perhaps it is just being coy but after the article appeared Amazon withdrew some of those job listings and edited others to make them more vague. And Amazon seems to have disappeared some of its existing augmented reality apps.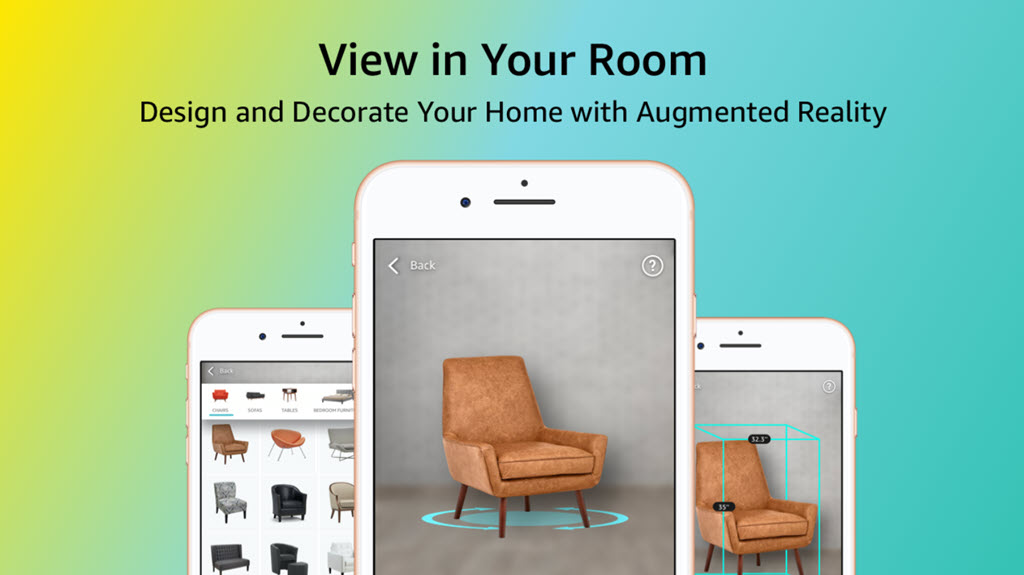 Example: At one time the Amazon app for iPhone/Android had a feature to use the phone camera to display a piece of furniture in your house using AR. "Curious whether a chair is the right size for your living room, or whether a coffee table you like will go along with your sofa? Now just pull out your phone to find out."
You can still find instructions about how to "view in your room" on this page. But it doesn't work. There is no sign of that feature in the Amazon app for Android tonight.

Similarly, Amazon had a separate AR app for iPhone/Android to display "immersive, sharable augmented reality." The description makes it sound like Amazon was going to release lots of fun AR content. The first release was a promotion for its series The Wheel Of Time, illustrated with the picture of the AR beastie up at the top of this article. The page is still online with the text in the screen shot above. It has a 2022 copyright notice, but tonight the app appears to have been removed from both app stores.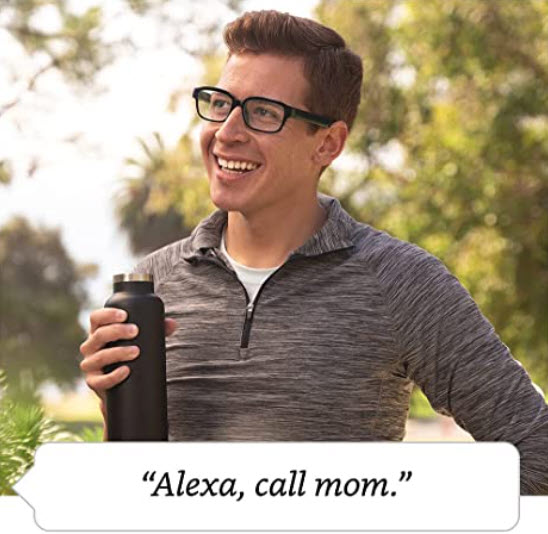 Every year Amazon releases dozens of new gadgets and Alexa-enabled devices. Most of them are disposable and forgettable and they frequently disappear within a year or two with no fanfare. The Echo Loop was a ring that vibrated with notifications and responded through an absurdly tiny speaker. There's an Alexa-enabled night light, and a smart oven (already gone), and third-party products that can be controlled by Alexa like a pet feeder and a twerking teddy bear.
So what are we to make of Echo Frames? They are "smart audio glasses" with no visual component. They listen for the code word "Alexa" and respond to voice commands to schedule alarms or make lists. Little speakers in the frames are good enough for podcasts and news. They do not have a camera so they sidestep all the difficult privacy problems that turned up when people wore Google Glasses into bathrooms.
You might be thinking that a decent pair of earbuds can do exactly the same thing. Well, yes. That's part of the reason the Echo Frames haven't had any impact.
Glasses without any visual enhancements don't fit our expectations for augmented reality. So Amazon's Echo Frames are more of a baby step toward the idea of wearing glasses that do something digital – anything, really. Part of the battle for acceptance of AR is getting consumers used to having these types of devices in their lives.
And Amazon clearly has larger dreams. Amazon tends to start with a minimum viable product, then develop and improve the ones that look like keepers. Amazon's first AR/VR release may not be the best, most polished device when it appears in a year or two or three, but Amazon is such a massive presence in our lives that it might have an outsized influence on the AR world.